Take Action Today.
Tender your Shares to the Premium Gold Royalty Offer
Gold Royalty's Premium Offer for Elemental
The Offer Consideration
0.27 of a common share of Gold Royalty in respect of each common share of Elemental held.
Reasons to Tender
Significant Upfront Premium to Elemental Shareholders
Immediate premium of 37% based on December 17, 2021 closing prices
Implied offer price of C$1.78 per share exceeds Elemental's 2021 peak share price
Creation of a Sector-Leading Portfolio
The combined entity will have a balanced portfolio of 200 royalties across cash flowing, development and exploration assets, focused in Tier 1 jurisdictions
Enhanced Trading Liquidity
Gold Royalty has averaged ~US$3.2 mm of daily trading liquidity over the past 6 months, compared to ~US$62 thousand for Elemental over the same period.
Financial Strength
Gold Royalty currently has approximately US$37 million in cash and marketable securities and no debt as at January 11, 2022.
Demonstrated ability to access equity and debt markets
Management Track Record
Gold Royalty has a management team with deep mining and capital markets expertise and an established track record of success
Proven team to lead combined company through next stage of growth
Clear Path to Re-Rate Through Increased Scale
In combination with Elemental, Gold Royalty will be strategically positioned as a preeminent intermediate gold royalty company.
Elemental shareholders may benefit from a potential valuation re-rating as a result of the combined company's increased scale, portfolio diversification, trading liquidity, and the potential for future growth both organically and through acquisition.
Investor Presentation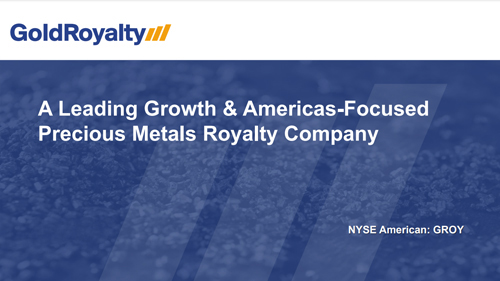 View Presentation
Tender Your Shares by 5:00 p.m. (Toronto time), on April 27, 2022.
No Offer or Solicitation
This website is for informational purposes only and does not constitute an offer to buy or sell, or a solicitation of an offer to sell or buy, any securities. Gold Royalty Corp.'s offer to acquire the outstanding common shares of Elemental Royalties Corp is being made made solely by, and subject to the terms and conditions set out in the Offer to Purchase and Circular, a copy of which is available on this website. Shareholders are urged to read such materials in their entirety as they contain important information regarding such offer.